Maľovanie vajíčok ako veľkonočná zábava.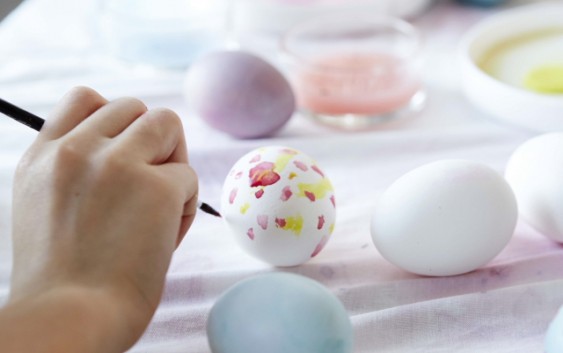 Ak by sa vás niekto opýtal na symbol znovuzrodenia a to nie len po zime, určite by mnohí odpovedali – vajíčko, ktoré je aj symbolom Veľkej noci.
Nechýbajú na žiadnom sviatočnom stole a popri množstve sladkostí vás priťahujú svojou originalitou v podobe varených marcipánových, čokoládových ale ja papierových plné cukríkov. Ak sa vám páčia kraslice a ste dostatočne zruční a trpezliví máte o veľkonočnú krásu postarané.  Najväčšou zábavou pre celú rodinu je vytvoriť si veľkonočné vajíčko, ktoré bude originálne, bude len vaše  a nekúpite ho v žiadnom obchode. Aby sa vám tento sen stal skutočnosťou, nastáva čas na zdobenie vajíčok. Nechajte sa unášať kreativitou, v tomto prípade platí heslo – čím viac farieb, tým lepšie!
Potrebujete:
Varené vajcia
Farby rozpustné vo vode
Jemné štetce rôznej veľkosti
Príprava:
Vyberte si výnimočnú tému a zasúťažte si – ktoré ozdobené vajce je najkrajšie alebo najvtipnejšie? Vyzdvihnite ich osobitosť. Bodky, pásiky, štvorce, vlnovky, kuriatka či iné zvieratká, kvety, autoportréty alebo čokoľvek iné – fantázie sa medze nekladú, je to len a len  na vás!
Ak nemáte farby, poobzerajte sa po prírode! Nafarbite vajcia varením v cvikle (červené), žltej cibuli (svetlohnedé), červenej kapuste zmiešanej s vínnym octom (modré), šafráne (žlté) alebo v niečom úplne inom – nebojte sa experimentov!
Potrebujete:
Vajíčka
Šupky žltej cibule = žltá
Šupky červenej cibule = žltohnedá
Brezové listy = svetlozelená
Šupky červenej repy = hnedočervená
Čučoriedky = fialová
Listy červenej kapusty = fialová
Nakrájané listy červenej kapusty = modrá
Šťavu z červenej repy = ružovočervená
Vínny ocot
Olej na varenie
Postup:
Povarte vodu s vínnym octom a farbivom podľa výberu a ponorte do nej vajíčka.
Jednotlivé odtiene závisia od doby varenia a množstva použitého
farbiaceho materiálu. Vajíčka potom umyte v studenej vode
a osušte. Aby boli lesklé, stačí ich následne potrieť
troškou oleja.
Tip:
Pred samotným farbením priviažte na vajíčka malé kvietky alebo listy a vložte ich do silonovej pančuchy a povarte.
Po ukončení farbenia vajíčka vyberte z pančuchy. Vytvoríte tak na nich nádherné vzory.
Veľkonočná zábava:
Zábavná hra na veľkonočnú večeru – tradícia spojená s vajíčkami.
Hra spočíva v kotúľaní vajíčka po stole s cieľom trafiť sa do vajíčka vášho súpera. Ak sa vajíčko protivníka rozbije ako prvé, vyhrali ste! Ak sa rozbijú obe, je to remíza. Čo takto usporiadať preteky za sviatočným stolom a uvidíte koľko veselosti a radosti je u vás doma.